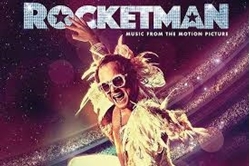 Giles Martin, music director of the Elton John biopic Rocketman, has revealed the movie's strong association with Abbey Road Studios in London.
Martin's father, George, helped secure the complex's part in history as he produced Beatles albums there in the '60s. Giles has taken over the mantle, having been involved in the band's reissue series in recent years.
But he also explained that Abbey Road played a major part in the creation of John's movie, which ended its theater run earlier this month.
"Our first session we did for Rocketman, our first training with [star] Taron [Egerton] learning to be Elton, was done in this room, actually," Martin said in a studio video. "It was an 18-month process from start to finish, Rocketman. It was a great project; it's been really well-received. … Rocketman is quite fantastical and weird. You're never quite sure if you'll be laughed out of the building or not, and you just try and do what you think is right. It was a really fun project."
Source: ultimateclassicrock.com