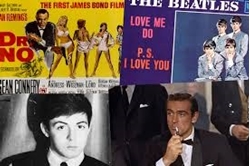 In terms of British cultural exports, there may not be a more significant day than Oct. 5, 1962. That's when the Beatles' debut single, "Love Me Do," and the first James Bond movie, Dr. No, were released.
"Love Me Do" was one of four songs - along with "P.S. I Love You," "Ask Me Why" and "Besame Mucho" - the Beatles played for George Martin at their Parlophone Records audition at London's Abbey Road Studios in June. The producer thought enough to sign the band, which had been building steam over the previous few years thanks to success in Liverpool and Hamburg clubs. But they weren't happy with their drummer, Pete Best. So, they replaced him with Ringo Starr.
On Sept. 4, the Beatles returned to Abbey Road for their first proper session, recording "Love Me Do." But Martin wasn't sure about their new drummer. So, he brought them back a week later and had session drummer Andy White take over, with Starr playing tambourine. Still, the version with Starr on drums was tapped as their first single; the take featuring White ended up on the band's debut album, Please Please Me.
Source: ultimateclassicrock.com