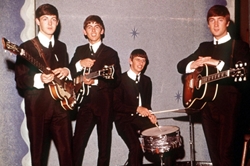 Rock 'n' roll staples don't come much bigger than "Twist and Shout."
More than half a century since it was first penned by Bronx-born songwriter Bert Berns (and his occasional partner Phil Medley), it can be heard everywhere from cable reruns of "Ferris Bueller's Day Off" to encores at Bruce Springsteen concerts. It's even been adopted as the unofficial fan anthem of Coventry City FC — a once-elite English soccer team.
But, as explored in the new documentary "Bang! The Bert Berns Story" (out now), it was a song that went through some changes.
Here's how the classic came about.
The Top Notes (1961)
Berns (also known as Bert Russell) wrote "Twist and Shout" with a slight Afro-Cuban swing to it. Atlantic Records honcho Jerry Wexler heard it and presented it to a struggling R&B duo called the Top Notes. A young Phil Spector produced this version, adding rewrites and a changed tempo — much to Berns' fury. It flopped.
By: Hardeep Phull
Source: The New York Post