How the Beatles Rocked the Kremlin
Thursday, April 11, 2013
KIRKUS REVIEW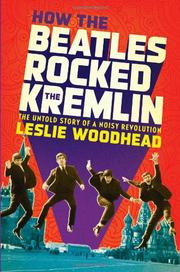 An exhaustive and exhausting look at the Fab Four's impact on the Soviet Union.
British documentarian Woodhead (My Life as a Spy, 2005, etc.) was on the Beatles' story early: He shot historic footage of the band at Liverpool's Cavern Club in 1962. Also a minor Cold War–era spy, the author spent more than three decades researching the group's impact on the Soviet psyche. His early chapters recount the Stalin regime's ambivalent, ultimately repressive relationship with jazz; saxophones were actually banned by the despot. The rise of the Beatles led to a vast underground market for the Beatles' music behind the Iron Curtain: Fans etched the quartet's banned music on X-ray film, traded clandestine reel-to-reel tapes and fashioned electric guitars with parts from gutted pay phones.
Read more on this story.......
Source: Kirkus Review
Beatles fans can now read the first TWO CHAPTERS of How The Beatles Rocked The Kremlin for free, online: http://issuu.com/bloomsburypublishing/docs/how_the_beatles_rocked_the_kremlin_sampler
Source: ISSUU