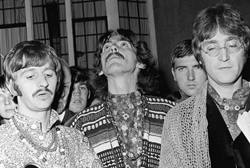 The Beatles were alerted to their manager Brian Epstein's sudden death by a phone call from their London offices to a student hostel in Bangor on August 27, 1967.
It is 50 years since the Fab Four visited Bangor to attend a 10-day conference on transcendental meditation led by Maharishi Mahesh Yogi at the Normal College, now part of Bangor University.
The telephone was located in a small kiosk just inside the main doorway of the Môn hostel where some of the Beatles entourage were staying.
It was normally used by students to make calls home and was a feature of the halls of residence.
The Beatles themselves, and the Maharishi Mahesh Yogi, were staying in the Dyfrdwy hostel opposite and one of their group rushed across the quad to break the tragic news.
One of the first to find out that Epstein had died was Dave Jones, who now lives in France.
He had been at the lecture on the Saturday attended by the Beatles and on the following day had a long chat with John Lennon.