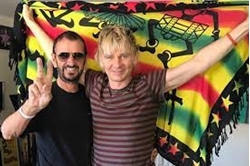 Zak Starkey's move to Reggae isn't exactly shocking, but it is interesting. The now 56-year-old English rock musician is the son of The Beatles drummer Ringo Starr and has served as the drummer in two legendary rock bands, The Who and Oasis.
Starkey has detailed how covering a Peter Tosh song led him to launch and helm a Grammy Award-winning Reggae label. "If you said five or six years ago, 'You're gonna be living in Jamaica and making records with Sly & Robbie…' I would've just thought, 'No, you're crazy, man!'"
n 2015, Starkey and his partner (now wife) Sharna "Sshh" Liguz began recording tracks for Issues, a covers album premised on playing new versions alongside the original musicians. The project was intended to raise funds for the U.K.-based Teenage Cancer Trust—a charity backed by Starkey and his fellow members of The Who. During a recording session with American drummer Gil Sharone, Starkey began praising Peter Tosh and, a few moments later, found himself speaking with the Stepping Razor's former bandmate.
Source: dancehallmag.com