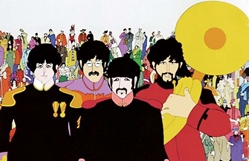 "It made them seem okay for 7-year-olds again," Beatles professor Glenn Gass told TheWrap, on the film's 50th anniversary
Once upon a time — or maybe twice — there was a gloriously colorful and strange film called "Yellow Submarine." The 1968 cartoon helped usher The Beatles out of an odd, hectic period for the band and would serve as a gateway for subsequent generations of Beatles fans to come.
When "Yellow Submarine" was released in the summer of 1968, the Beatles were bigger than Jesus (or so John Lennon had famously said two years earlier, to plenty of criticism). But things had gotten a little rocky within the group. Their longtime manager, Brian Epstein, had died the previous summer; they endured their first flop, the British TV film "Magical Mystery Tour," at the end of that year; they alienated some fans with a trip to India to meditate with the Maharishi Mahesh Yogi in early 1968; and Lennon was heavily into LSD and, in October, would be arrested on drug possession charges with his new girlfriend Yoko Ono, whose constant presence was not always embraced by the band or its fans.
Source: Brian Welk,sfgate.com