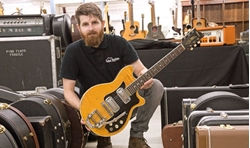 The Harrison guitar that is going on auction. (Image: PA)
The Australian-made Maton Mastersound MS-500 is one of more than 500 guitars and rock'n'rock memorabilia to go under the hammer, including a pair of Ray-Ban sunglasses owned by Harrison.
George Harrison, who died in 2001, was loaned the instrument while his regular guitar was being repaired, continued to use the guitar for several performances and was last photographed with it at The Beatles final performance at The Cavern Club on August 3 1963.
The iconic instrument, which was bought by Dave Berry and The Cruisers guitarist Roy Barber, will be sold by a UK private collected and auctioned on September 12 at Gardiner Houlgate auctions in Corsham, Wiltshire.
Source: Suban Abdulla /express.co.uk