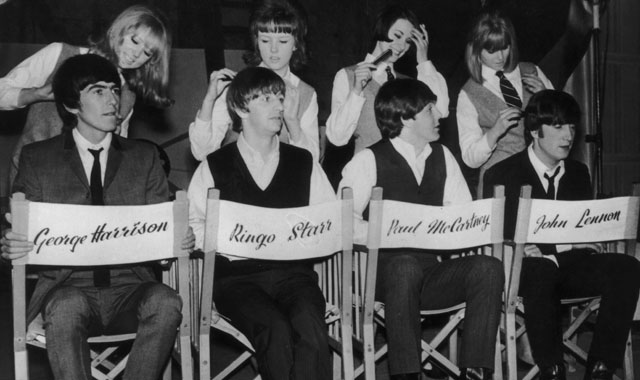 The iconic Twickenham film studios, which made the Beatles films, Blade Runner and War Horse, has been saved from closure following a celebrity-backed campaign.
Big names in the film industry such as Colin Firth, Steven Spielberg and Sir Paul McCartney signed a petition to save the studios which had gone into administration.
There had been plans to demolish the 99-year-old building and redevelop the site to make way for housing, prompting a fierce campaign from local residents and those involved in the film industry.
But Gerald Krasner, from joint administrators Begbies Traynor, told Sky News a mystery buyer exchanged contracts with them on Friday and they have received a 10% deposit.
He said the building would continue as studio facilities with all staff jobs secured.
A statement released by Begbies Traynor added: "It is envisaged that completion will take place later this year.
"At this stage, the purchaser wishes to remain anonymous and further details will be released after completion."
Staff at studios say they are "delighted" at the news but Maria Walker, who started the petition to save the studios, is wary.
She told Sky News: "I am cautiously optimistic because we don't know who the buyer is. If it is genuine then it is great news but we do have our concerns."
Developers Taylor Wimpey had bid for the site with plans to build a housing complex but pulled out of the sale on April 20 following opposition from local residents.
More than 5,000 people signed the petition, including Stephen Daldrey and David Cronenberg with actress Julie Walters writing to local MP Vince Cable asking for his support.
After Taylor Wimpey shelved their plans, another buyer then pulled out on May 19 despite putting down a non-refundable £100,000 deposit.
Krasner said the breakdown of the sale was down to "personal reasons" rather than financial concerns.
Over the studios' 99-year history, they have been used by the Beatles to film A Hard Day's Night and Help, while Michael Caine's Alfie and The Italian Job were also filmed there.
In the 1980s classic movies such as Blade Runner, A Fish Called Wanda and An American Werewolf in London were shot at Twickenham.
More recently, scenes from Spielberg's War Horse were filmed there as well as My Week With Marilyn, while The Iron Lady used its post-production facilities.
You can read the original article HERE