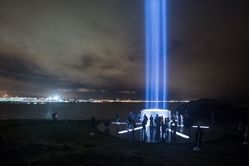 October 9 saw the annual lighting of the Imagine Peace Tower of Light on Viðey outside of Reykjavík.
Created by Yoko Ono in 2007, the Imagine Peace Tower stands as a tribute for Ono's late husband, musician John Lennon. The tower is illuminated between the October 9 until the December 8, marking the birth and death of Lennon. The tower stands tall as a symbol for the world peace campaign Lennon and Ono began during the '60s.
During this year's lighting of the tower, spectators were able to see a video message featuring Ono before the peace tower was lit. The path toward the light tower was signposted by a romantic trail of torches. Although the drizzly weather dampened the visibility of the surroundings, a spectacular surprise display of the Northern Lights were a memorable addition to the event.
Source: Words by Mulan/grapevine.is