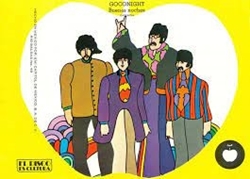 It's the buoyant aquatic jam on Abbey Road: Ringo Starr's final contribution to The Beatles' oeuvre, an upbeat and cheerful dedication to cephalopod habitats and love without bounds that gently rises and falls with cascading guitars and charming melodies. It's been covered by The Muppets three times, it has its own children's book (written by Starr himself and published in 2014), and in (500) Days of Summer, Zooey Deschanel's character Summer Finn calls it "the greatest Beatles song ever."
Simply put, "Octopus's Garden" is ubiquitous: One of The Beatles' most iconic, if not also one of their most unique contributions to the modern songbook.
But what inspired this unabridged underwater immersion into the mysterious and oft unforgiving sea world? What sparked The Beatles' unfiltered embrace of octopedal life? To find out, Atwood Magazine's investigative team dove deep into the hazy annals of the late 1960s – and what we discovered may shock you.
Source: Mitch Mosk/atwoodmagazine.com