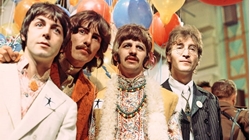 There's something magical about hearing Sgt. Pepper outtakes in Studio Two of Abbey Road — the same room where the Beatles made the album. The studio looks the same as it did in 1967 — even the same baffles hang on the wall. "Abbey Road is a bit like a salad bowl or a teapot," producer Giles Martin, son and heir to George Martin, tells Rolling Stone. "The walls absorb music."
There's no better place for Rolling Stone to experience an exclusive tour of the Pepper vaults, as Martin spends a hard day's afternoon giving us a one-on-one preview: the previously unheard and unreleased treasures on the new 50th Anniversary Edition of Sgt. Pepper's Lonely Hearts Club Band. The box has alternate takes of each song — in some cases drastically different and all offering revelatory insights into the most legendary of rock masterpieces. It's the first time the Beatles have opened their vaults and released new recordings since Anthology.
The new remix has long been craved by hardcore Beatle heads, who have always complained about the diffuse stereo mix. The mono version was the one George Martin, engineer Geoff Emerick and the band spent weeks mixing — but the stereo version was rushed out without the Beatles even there in the room. "They were trying to create this immersive world that the stereo didn't have," Giles Martin says now. "Nobody paid much attention to the stereo mix. What we did was work out what they were doing in the mono mix and apply it to stereo."
No matter how well you know the album, this remix is full of nuances any fan will notice, especially the bottom end —Ringo's kick drum really reveals new dimensions. It's a tribute to the band and their producer. "My dad, especially on Pepper, was almost like a satellite dish that managed to capture all their ideas and mash them down to this little black piece of plastic that changed the way people listen to music."
By: Rob Sheffield
Source: Rolling Stone