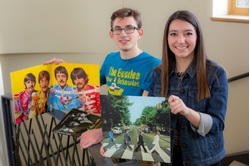 Jennifer Leptien was the kindergartener singing the Sgt. Pepper's Lonely Hearts Club Band album word for word. After watching John Lennon's "Live in New York City" performance, she was the seventh-grader walking the hallways in her army jacket.
Today, Leptien, director of Iowa State University's learning communities program and a Ph.D. in human development and family studies, has translated her love of the Beatles into a one-credit seminar course within the Honors Program. The idea became a reality in 2013, after Susan Yager — Morrill Professor of English and previous faculty director of honors — heard the Beatles cover band Rain was coming to Iowa State. She asked Leptien if she had ever considered turning her lifelong passion into a learning opportunity for students.
"The Beatles were the soundtrack to my childhood," Leptien said.
The story is similar for her counterpart teaching the seminar, Jason Chrystal, academic adviser in political science with a Ph.D. in history. His mother's Beatles fandom turned into his own — unless they were in his father's car, where the Beach Boys and Elvis Presley dominated the stereo.
Source: news.iastate.edu