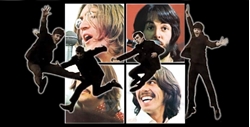 Apple Records partnering with Peter Jackson to direct a new Beatles documentary edited from the hours of footage recorded for the 1970 film, Let It Be is great news for the band's fans, but could this new edit of the Let It Be footage be rewriting the story of The Beatles' breakup?
Let It Be is a documentary about The Beatles rehearsing and recording the album of the same name. Filmed in the early part of 1969, the band would break up later that year before officially dissolving in 1970. It's notorious for including sequences that hint at the discord brewing between band members John Lennon, Paul McCartney, George Harrison, and Ringo Starr, building off tensions that first surfaced while The Beatles were recording "The White Album."
Let It Be has since become an incredibly tough film to find, which makes the news of Jackson's restoration especially exciting. However, seeing as it's an officially sanctioned re-editing of the material, there's a real chance the film might soften just how badly the individual Beatles come across in the footage. In which case, might the purpose of Jackson's new documentary be to rewrite the history of The Beatles' breakup in the same way Bohemian Rhapsody changed the story of Queen?
Source: Stephen M. Colbert/screenrant.com