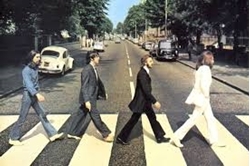 Why did The Beatles cross the road 50 years ago? Abbey Road, to be exact?
It wasn't to create an iconic image, though they did. Nor did they intend to spark conspiracy theories that Paul McCartney was dead. (He's barefoot and out-of-step with his bandmates on the "Abbey Road" album cover. What else could that mean?)
The reality is much more practical. On Aug. 8, 1969, The Beatles simply needed a cover photo for their next album.
But the significance, though unknown at the time, would be much greater. "Abbey Road" was the band's final album together. And the last time all four band members worked together was Aug. 20, 1969. They broke up the following year.
Source: Steve Hartsoe/today.duke.edu