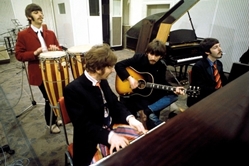 An evening in early April. Outside Abbey Road Studios in north-west London, tourists are performing their customary dance with irate motorists as they attempt to have themselves photographed on the zebra crossing across which The Beatles walked in 1969 for the cover shot of Abbey Road.
Inside the complex, a group of 100 people are seated in Studio Two – another historic landmark, if one less easily accessible to the public. Here, guests are looking around, taking photos on their phones, peering up the stairs to the control room: spaces once populated by living, working, actual Beatles as they went about their business making some of the world's greatest music.

It is 50 years ago today, pretty much, that the Beatles released their album Sgt Pepper's Lonely Hearts Club Band. The record starts with an orchestra warming up and ends with a thunderous piano chord. There are sentimental songs and otherworldly trips, rooster noises and laughter. It's the pinnacle of the band's achievement but possibly also marks the beginning of their end. Shortly after, John Lennon and Paul McCartney became creatively estranged. Here, though, they are still working genuinely in partnership and it's magnificent to hear.

As the producer's son – a 40-something named Giles Martin – tells the gathering, it has been quite something to work on such an album. From the start of their recording career in 1962, his father George worked with the Beatles to turn their ever-expanding musical brief – feedback, sitar drones, a song which would sound like "monks chanting on a mountain top" – into something which might be technically achievable in a recording studio. From late in 1966 to April 1967, he embarked on their most ambitious project yet: a release on June 2, 1967 that was both nostalgic and thrillingly contemporary. On the original vinyl record, the tracks were all run together with no gaps between them, to create a seamless trip into the Beatles' new world.

The group worked tirelessly on the album. They spent 30 hours recording the final song A Day in the Life – three times longer than they spent on their entire debut LP (Please Please Me) four years earlier. Long into the night, they laboured on the mono mixes of the original recordings, then retired to their homes with acetates of the night's work to continue listening. The stereo mixes, roomier affairs, were created by studio engineers, with Beatles seldom present. Before this one, the last major Beatles project was the mastering of the catalogue in mono for vinyl – reflecting the appetite for this form among the deepest listeners of the band.
By: John Robinson
Source: The National (AE)