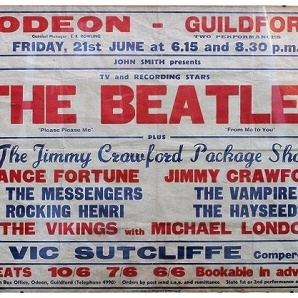 FRIDAY (June 21) marks the 50th anniversary of The Beatles' one and only visit to Guildford. The Fab Four headlined two concerts at the Odeon in the upper High Street on June 21 1963.
John Lennon, Paul McCartney, Ringo Starr and George Harrison visited the town as the headline act on the Jimmy Crawford Package Show, with support acts including Lance Fortune, The Hayseeds and The Vikings with Michael London.
At the time, the Surrey Advertiser's sister paper, the Guildford and Godalming Times, reported on the gig, focusing on the many screaming fans.
The reviewer said: "The Beatles did their best to sing above the deafening screams of the audience. "I recognised their hit numbers but most of the words were inaudible."
Reading more on this story......
Source: Get Surrey
Photo Credit: Tracks Ltd