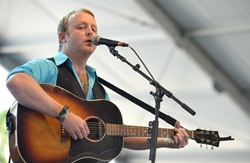 Unlike his loquacious and chatty dad Paul, James McCartney is a man of few, but well-chosen words.
But get him one subject he is passionate about -- like animal rights and vegetarianism -- and he opens up a bit more.
"Hopefully animals won't be killed one day, preferably now as we live in the here and now, and they will be helped to live the lives they truly want to in their hearts," he said in a recent interview. "I know vegetarian/vegan/ayurvedic are the healthiest diets."
It's safe to say that McCartney will have plenty of vegetarian dining options when his tour hits Northampton at the Iron Horse Music Hall on April 7.
McCartney is touring in support of his latest record, "The Blackberry Train," on which he worked with legendary producer Steve Albini (of Nirvana and Pixies fame). The opening track, the jangling rocker, "Too Hard," also features George Harrison's son Dhani on guitar and vocals. McCartney indicated that he and Albini got right down to work when it came to making the record.
By: George Lenker
Source: Mass Live