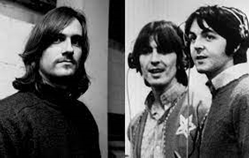 James Taylor has spoken about auditioning to join The Beatles' label Apple Records in the late 1960s.
The singer-songwriter said in a new interview that he believes his youth – besides his musical talent – helped him have the confidence to sell himself.
"I had some kind of competence and the arrogance of youth, without which nobody would ever do anything, because you'd hedge your bets," Taylor recalled to GuitarWorld of auditioning in front of Paul McCartney and George Harrison.
"There's a stage in our development where you're allowed to do impossible things, which is why the military looks to people about that age. You can talk people into doing things that if you were asked when you were 35, you'd say, 'No thanks, I'll pass on that.'
Source: By Charlotte Krol/nme.com