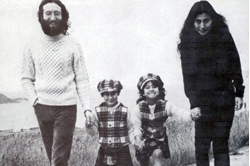 It was a place where John Lennon was to bring his own children to share his love of long summers in the Highlands. The ex-Beatle was to be a regular visitor to Durness in Sutherland during his younger years after his dear Aunt Mater remarried a dentist called Bert who owned a home that overlooked Sango Bay.
John, who travelled north with his cousin Stanley Parks, who lived in Edinburgh and later in Largs, would head to the coast for weeks on end, often being dragged into helping his uncle fix up the house.
But fishing, walking and shooting were the norm, Parks later recalled, with a young Lennon heading up into the hills on his own. The musician has also been remembered for his high jinks in the Highlands, with the singer tying seaweed to shop doors to stop workers from leaving.
"The family party roughed it in a primitive farmhouse lit by oil lamp and candles and noisy with the screeches of Mater's pet parrot," wrote Philip Norman in his biography John Lennon: The Life. The house where Lennon holidayed at Sangomore, a settlement at Durness, was demolished around four years a go with a new property built by the owners.A plaque on the wall of the property marks the association with the Beatle.
Lennon last visit Durness in 1969 when he decided to travel north after flying in from the US with Yoko Ono and their daughter Kyoko.
By: Alison Campsie
Source: The Scotsman