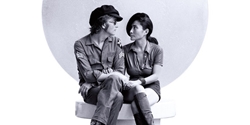 A restored and remixed version of John Lennon & Yoko Ono's Imagine will reach theaters around the world beginning on Sept. 17.
The movie documents the making of the 1971 album Imagine and features never-before-seen footage.
According to a press release, Imagine, which Lennon and Ono directed, was restored frame-by-frame from the original reels, and the audio has been remixed by Paul Hicks. It guest stars Fred Astaire, Andy Warhol and Dick Cavett. The bonus footage, 15 minutes in all, includes Lennon and his band -- George Harrison, Nicky Hopkins, Klaus Voorman and Alan White -- recording his anti-Paul McCartney diatribe "How Do You Sleep?" and "Oh My Love." A special Dolby Atmos "raw studio" mix was created for these performances.
Source: ultimateclassicrock.com