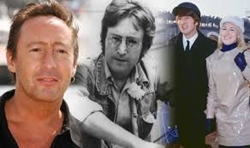 John Lennon tragically died after being fatally shot by Mark Chapman outside his New York home in 1980. An icon of music, peace activist and father-of-two, The Beatles star's left a huge mark on the world. In addition to his wife Yoko Ono, John's ex and his son from his first marriage were also left grieving his loss.
In an unearthed interview with NPR's Fresh Air, Cynthia Lennon opened up on a heart-wrenching moment shortly after he died.
Speaking in 1985, five years after John's passing, she said she could see a lot of the Beatle in their son, Julian Lennon.
Asked if she found their physical likeness "eerie", she replied: "Following John's death, I had an experience of coming downstairs in the house I lived in North Wales, and [Julian] was sitting at a piano with his back to me, and he was singing a very soulful song."
Source:Minnie Wright/express.co.uk