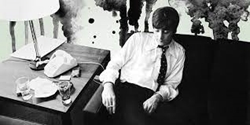 John Lennon, Paul McCartney, George Harrison, and Ringo Starr made one of the world's biggest bands — the Beatles. They broke records with songs like "Twist and Shout" and added social commentary into "Get Back."
After several years of performing together, Lennon felt his work with the Beatles felt like a "tape loop." Here's what we learned from Skywriting by Word of Mouth.
The Beatles earned international recognition for their music, recording music for years until the band started facing problems. Ringo Starr and Harrison both briefly exited the Beatles at different times.
Harrison's departure, as seen in the Disney+ documentary series, The Beatles: Get Back, took place right before their iconic rooftop performance at the Apple Corps headquarters. Both artists returned, with the Beatles officially disbanding in 1970, with McCartney's "self-interview" used to share the news.
When asked about the reason for the break, McCartney wrote, "personal differences, business differences, musical differences, but most of all because I have a better time with my family. Temporary or permanent? I don't really know."
Source: Julia Dzurillay/cheatsheet.com