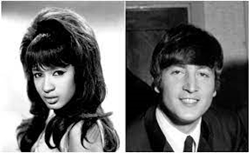 Before The Beatles went to America and after The Ronettes recorded "Be My Baby," John Lennon met Ronnie Spector at a party. They instantly clicked. Maybe almost too well. John put the moves on Spector, and she had to deny his advances quickly.
According to People, The Beatles officially met The Ronettes at a show-business party in London. The Ronettes were over the pond for their first U.K. tour. The Beatles, The Rolling Stones, and more welcomed the trio and made them feel a part of the music scene.
Spector had heard that the Fab Four wanted to be introduced to them. "They had seen us on Sunday Night at the London Palladium and they said, 'We have got to meet these girls with the black long hair and slits up the side,'" Spector said.
Source: cheatsheet.com