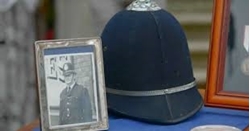 An Antiques Roadshow guest was completely stunned to learn the value of a helmet once worn by late Beatles legend John Lennon.
The BBC One series returned to screens on Sunday night with new coronavirus safety protocols in place.
One guest brought in a police helmet which belonged to her father but was worn by Lennon when he and his Beatles bandmates, Paul McCartney, George Harrison and Ringo Starr, visited the Birmingham Hippodrome in 1963 for a performance.
The woman's father, Ivor Gordon Russell, was one of the officers escorting the Beatles in.
She explained: 'They had to get them through the screaming girls and they didn't know quite how they were going to do it. The sergeant had the wonderful idea of, why don't you put helmets on them and make them look like policemen and we'll get them through the girls.
Source: Alicia Adejobi/metro.co.uk