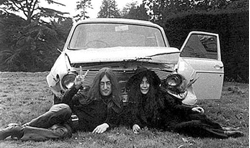 While Sir Paul McCartney's links to Kintyre are well-documented, his fellow Beatle John Lennon also loved Scotland after spending many blissful summers north of the Border as a child. From the age of nine Lennon spent his summer holidays with his Aunt 'Mater' who had remarried and moved to Edinburgh. He would travel alone by bus to visit his aunt and his cousin Stanley Parkes in the capital and also at their family croft in Durness, Sutherland.
While in the wilderness the aspiring singer-songwriter hunted, hiked, fished and played tricks on the locals by tying seaweed on shop doors to prevent workers from leaving.
He also drew and wrote poetry in the tranquility of the hills.
But the Scottish breaks ended when Lennon was around 15 after he formed his first band, The Quarrymen, and music took over.
Source: Paula Murray/express.co.uk