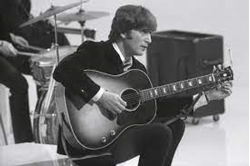 One of The Beatles' most famous songs is "All You Need Is Love." During an interview, John Lennon said the lyrics of The Beatles' "All You Need is Love" did not reflect his life at the time he wrote them. He explained what he thought about love when he penned the song.
According to Blank on Blank, John discussed finding the love of his life, Yoko Ono, in his 20s. "I can't give you the formula for meeting the person that you're going to love, but it's around, you know," he said. "And it happens."
Yoko discussed what it was like to find love. "I mean, I just sort of, I was starting to give up hope, you know, that kind of thing, you know," she said. She felt she was too old to be in a fulfilling relationship until she found John.
Source: cheatsheet.com