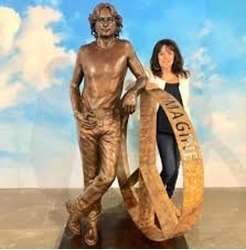 A sculpture of John Lennon is being proposed for a homecoming tour commemorating the former Beatle in the year he would have turned 80.
The sculptor who made the six-foot bronze statue of Lennon says she would like it to go on public display in the singer's native Merseyside by 21 September – International Day of Peace.
Laura Lian started sculpting the Lennon statue two years ago. Since its completion, the sculpture has spent most of the time inside the Hard Rock Cafe in London. She wants it to tour all of the boroughs around Merseyside over the next two years. It is currently at the Castle Foundry in Liverpool.
Lian, who has made statues for the former Formula One chief Bernie Ecclestone and Bill Wyman of the Rolling Stones, said: "With all the trouble in the world about statues …
Source: Henry McDonald/theguardian.com