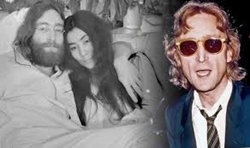 John Lennon and Yoko Ono met in London in 1966 when The Beatles were at the height of their fame. She was having an exhibition of her work at a gallery when he came for a private viewing the day before it opened. The pair hit it off emotionally and intellectually, with the musician leaving fascinated by the avant-garde artist.
Lennon and Ono soon began corresponding and subsequently embarked on a romance.
Their relationship was the final straw for his first wife Cynthia Lennon and their marriage ended in 1968.
A year later, he tied the knot with Ono in Gibraltar.
It was shortly after he married Ono, however, that Lennon told his fellow Beatles he was leaving the band, leading to the group splitting for good.
Source: thefloridapost.com