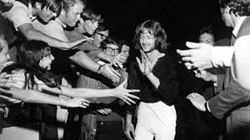 Ringo, Paul, John — and Eric?! Perhaps no other band in history is quite as synonymous with the first names of its members as the Beatles. But at one point, George Harrison walked out on the band — and at the top of the list to replace him: Eric Clapton.
The guitarist first met the Fab Four when he was in the band the Yardbirds, who were a supporting act for one of their headlining shows in 1964.
That led to a connection so strong that straddled both the Beatles' professional and personal lives. Clapton didn't just collaborate with the band as a whole, but he also played with each of the four members independently on their solo endeavors. On top of that, he became best friends with Harrison — and they even ended up sharing an ex-wife, Pattie Boyd.
Source: biography.com