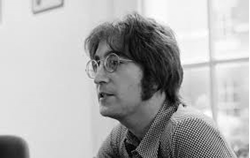 A new pop-up TV channel is being launched to mark what would have been John Lennon's 80th birthday this week.
Sky, Virgin and Freeview will broadcast LENNON80 in honour of the late Beatle's birthday this Friday (October 9), which will include a mix of old footage and new content.
Among the programmes airing on the channel will be the famous documentary Bed Peace, which follows Lennon and Yoko Ono's famous "Bed-In for Peace" protest in 1969, as well as appearances on Parkinson in 1971 and The Dick Cavett Show in 1971 and 1972.
The channel will also show three documentaries by Ono: her 2004 Tate Gallery Lecture, her Onochord performance piece and a show about the Imagine Peace Tower in Iceland.
Source: Sam Warner/nme.com