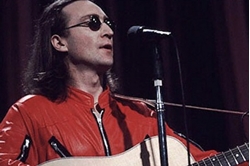 In 1975, John Lennon retired from live performance after his son Sean was born. What followed was, for him, five years of domestic bliss in his New York mansion, The Dakota, centred around being a full-time father and showering his new child with such love and devotion that he had never shown his first son, Julian.
But before he could settle down into a cycle of serenity that he'd never previously been able to enjoy, Lennon a few professional obligations to fulfil – one being what turned out to be his final live performance ever.
John Lennon final performance.
Source: hhhhappy.com