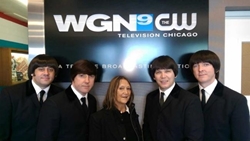 John Lennon's sister Julia Baird is warning music fans to 'get ready to dance' when The Mersey Beatles hit the stage at Whitchurch Civic Centre in November.
After sold out shows in the USA, Asia and Europe, the world renowned Liverpool-born tribute band are retracing The Beatles' footsteps on their 'Get Back UK Tour' which visits the same towns, cities and original venues the Fab Four rocked in the 1960s.
The Beatles famously played Whitchurch's former Town Hall Ballroom – located on the site of the Civic Centre – on January 19, 1963.
This was the same day as the band's important appearance on TV's Thank Your Lucky Stars, playing their new single Please Please Me.
Source: whitchurchherald.co.uk