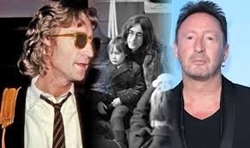 The Beatles and Queen are two of the most famous classic rock bands of all time, however, they didn't really cross paths. Once, John Lennon's son, Julian, tried to get his father to listen to Queen. Here's what happened — and a look at whether Queen outperformed The Beatles on the American charts.
John gave an interview to Spin in the spring of 1975. During the interview, he discussed Queen. To put things in context, Queen had only released three albums at that point: their self-titled album, Queen II, and Sheer Heart Attack.
Their most famous song at that point was likely the art-rock tune "Killer Queen." They had not yet released "Bohemian Rhapsody," "We Will Rock You," "We Are the Champions," "Another One Bites the Dust," "Don't Stop Me Now," "The Show Must Go On," or "Fat Bottomed Girls" or many of their other most iconic songs. Despite this, Julian was a fan.
Source: cheatsheet.com