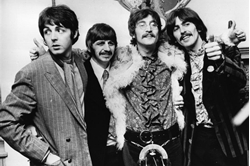 Beatles fans far and wide have taken to Twitter to express their frustration with the new John Lewis Christmas advert.
But it isn't Moz the cuddly 7ft monster they have a problem with, nor is it the advert's sweet tale of a friendship between monster and young boy.
It's not even that this year's infamous soundtrack is a cover of The Beatles' classic Golden Slumbers reimagined by Elbow.
Instead, fans of the Fab Four have been left dissatisfied with how the advert, or more specifically the song, ends.
Originally being part of the medley that makes up the B side of the legendary Abbey Road album, The Beatles' Golden Slumbers moves into Carry That Weight.
Source: Meaghan Spencer