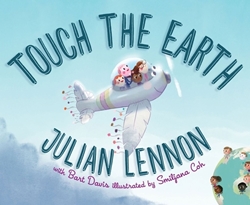 Julian Lennon is teaching children how to "Imagine" a better world — and build it themselves.
Like his rock-icon father John Lennon, the 54-year-old musician, photographer, film producer and activist is using his art as a rallying cry.
With a little help from his friends, New York Times bestselling author Bart Davis and Croatian illustrator Smiljana Coh, he's written Touch the Earth, the first in a planned trilogy of illustrated books designed to educate children on the fragile beauty of the planet — and what they can do to protect it.
Out Tuesday (just ahead of Earth Day on April 22), a portion of the proceeds will go to support the efforts of Lennon's White Feather Foundation, which fights for environmental and humanitarian causes across the globe.
Lennon spoke to PEOPLE about Touch the Earth, its message and its touching connection to his late father.
PEOPLE: What moved you to write the book series?
Julian: After having written songs about environmental and humanitarian issues, worked as executive producer on several award winning documentaries and founded the White Feather Foundation, I asked myself what was next in that line of thought and direction. What could I do to reach people who were complacent about those very issues?
After a lovely chat with a dear friend of mine, Bart Davis — an incredibly talented writer — we mulled over the idea that [children] were the only age group I hadn't really reached out to, as such. So we decided to play around with ideas, until we came up with the first book together.
By: Jordan Runtagh
Source: People