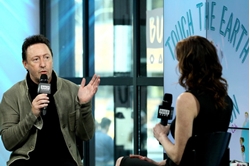 Julian Lennon is thinking about putting his life story down on paper.
During an interview with The Huffington Post at Build Series, the musical artist and environmental activist said he's interested in writing a memoir because, after all, "Who knows how long we've got?" He added with a smile, "I am hopeful, by the way."
Lennon, 54, admits that he doesn't have the best memory, so he'd have to rely on others to fill in the blanks of his life.
"I'd like to get around to that because there are so many memories that a lot of my friends or colleagues that I work with have that I don't recall because of the time and the place and because of where my focus was as opposed to theirs," he said. "Even hearing the stories myself that my friends have told me and I'm going, 'Really? I did that? OK, right.' So, I'm just as curious, to be honest."
Some of those fuzzy memories date back to when he was a child, growing up as the son of John Lennon.
"He walked out the door when I was about 3 or 4 years old and we only saw each other a few times," Julian said of his father.
When asked what kind of impact his dad had on him, Julian said, "As a father, not so much. We tried to make that up toward the end. But musically and as an artist — him along with the rest of the boys [the Beatles] — there's probably nobody better. So they've always been an influence."
One thing his late father said, though, has stuck with Julian.
By: Lauren Moraski
Source: The Huffington Post