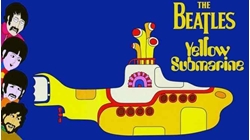 A newly-restored version of 'Yellow Submarine' is screened July 12 at the Empress Theatre in Vallejo.
In the town where I was born, lived a man who sailed to sea. And he told us of his life ...
There's no mistaking the opening line of the 1966 Beatles' tune, "Yellow Submarine," written by John Lennon and Paul McCartney and sung by Ringo Starr.
Steve Dunsky was always a big fan of the song. And bigger fan of the namesake 1968 film. Yes, it was 50 years ago today. OK, maybe not today. But this year.
And the man who picks the films for the Empress Theatre Film Club wanted to honor the milestone.
Cue the music.
And he told us of his life. In the land of submarines. ...
Yep, "Yellow Submarine" screens at the downtown Vallejo venue next Thursday, July 12, at 7 p.m. and it's not just the newly-restored version but the sing-along version, Dunsky said.
"So that will be a lot of fun," he noted. "We're also inviting the audience to dress like their favorite Beatle ... or in vintage hippie clothing."
There will be a prize for the best outfit, added Dunsky.
Source: Richard Freedman, Vallejo Times-Herald