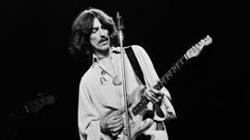 George Harrison had not played much (or any) slide with the Beatles, but on 1970's All Things Must Pass his slide playing appeared, fully formed, on many tracks, including one of his biggest hits, My Sweet Lord.
This melodic slide approach would go on to become part of his signature sound and would be refined throughout his career. Using standard tuning enabled Harrison to switch back to rhythm during verses, and playing extended passages on one or two strings gave him a unique, instantly recognizable and often-imitated slide voice.
Harrison seemed to avoid the typical blues slide cliches, but his slide playing was nonetheless soulful; instead he'd create unique melodies, usually on his psychedelic "Rocky" Strat - or any Strat, for that matter - with a variety of pickup selections, through a Fender amp.
Source: Jack Ellis/guitarworld.com