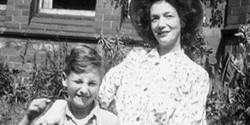 In 1956 Julia Lennon showed her son John how she played the banjo and he copied her fingering on his cheap guitar. Julia Lennon was killed in a car accident in July 1958 and nobody, it would seem, knows where her banjo is now. Its value to a collector would be immense, but surely not the £5m suggested in this production.
The fate of Julia's banjo is the premise for a new play written by Rob Fennah and staged at the Epstein Theatre, the former Neptune Theatre renamed after the Beatles' manager. The experienced cast have been in some of our favourite TV series, the best-known being Mark Moraghan of Holby City.
A Beatles tour guide and ardent fan, Barry Seddon (Eric Potts), finds a letter written by John Lennon in 1962, cryptically describing where he has hidden the banjo. With two friends (Moraghan and Jake Abraham) who run a souvenir store, they attempt to solve the puzzle. But they need to get into the mind of John Lennon to do that, and "he wrote 'I Am The Walrus', for fuck's sake." The clever solution depends on information that the audience cannot know: it would have been better if we stood a chance of solving it too.
Source: SPENCER LEIGH/independent.co.uk