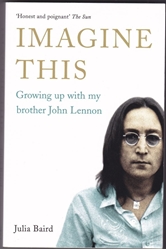 KENT — John Lennon's sister and her children were watching a BBC documentary about her brother and the story couldn't have been further from the truth, so she decided to write her own book to set the record straight.
At a concert with The Mersey Beatles on Saturday at Kent Stage, Julia Baird will meet with fans and sign copies of her book: "Imagine This: Growing Up with My Brother John Lennon" that knocks the biographies' claims that John was abandoned by his mother.
"I think the Beatles are a modern-day Beethoven," Baird said in an interview with Record-Courier. "People study the lives of the Beatles like they study the life of Beethoven. There's books and biographies. Friends of friends of someone who knew them and they're the 'experts' that write about John's life. After John died, stories about our family became wild and he's no longer around to do anything. I thought I've got to do something."
Baird, the director of the Cavern Club, is on tour with The Mersey Beatles, a Liverpool-born Beatles tribute band and longtime house band at the world-famous club in England where the Beatles gigged before they took the world by storm.
Source: Kelly Maile