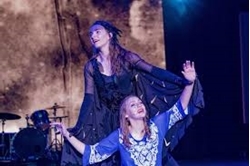 "Let It Be Christmas" returns to Naperville's Community Christian Church with nine performances in December. The rock opera tells the story of Jesus' birth through the music of The Beatles. (Jennifer Pedley)
For 12 years, a Naperville church has presented the story of Christmas set to the songs of The Beatles. The result is "Let It Be Christmas (The Gospel According to Matthew, Mark, Luke, John, Paul, George and Ringo)."
"Let It Be Christmas" returns with nine performances at Community Christian Church in Naperville, presented by Epic Theatre Company. Shows are at 7:30 p.m. Dec. 6-7, Dec. 13-14 and Dec. 20 and 3 p.m. Dec. 7, Dec. 14 and Dec. 21; and 11 a.m. Dec. 21.
The cast consists of 80 local children and adults. Epic is associated with the church.
"It's grown quite a bit. It's been quite the evolution," said Elic Bramlett, director of "Let It Be Christmas."
How did they come up with the idea?
"Well, like all good ideas, we stole it from someone," he laughed. "It helps that it is a good friend that we stole it from."
Source: Annie Alleman/chicagotribune.com