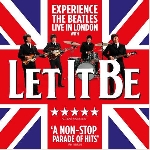 Let It Be is an unashamed Beatles singalong fest at The Savoy Theatre in London. There is no awkward delay while the audience warms up with this non-stop hit machine - from the first word of the first song, I Saw Her Standing There, everyone - regardless of age -Is straight in there, celebrating 50 years of the greatest band the world has ever seen until the rousing finale Hey Jude.
So, no, I'm not an impartial reviewer but who is when it comes to the Beatles?
There is no need to include any story-telling or pretence at a plot, as with many theatre-based retro music shows currently touring, with The Beatles everyone knows the history and the songs
Read more on this story........
Source: The Villiager