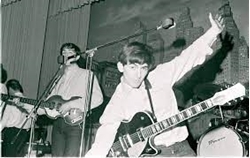 Letters and memorabilia from The Beatles' time in Hamburg are set to go up for auction in London next month.
The iconic band played over 250 shows in the German city between August 1960 and December 1962, with their time gigging and some of the relationships they formed there helping to propel them to fame in the UK and beyond.
The new auction lot will include previously unseen letters, work permits, photos, drawings, poems and more. Some of the items were sent by the band to photographer Astrid Kirchherr, who was engaged to former Beatle Stuart Sutcliffe after meeting them in Hamburg.
The group were close with Kirchherr and wrote to her when they were back in the UK. In one letter that is going up for auction, George Harrison invited her to visit him and Ringo Starr in their new flat and instructed her not to put his name on the envelope when she wrote back.
Source: Rhian Daly/nme.com