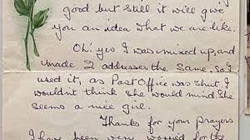 A collection of letters that the mother of The Beatles' George Harrison wrote to a superfan over a five-year period has emerged for sale.
Louise Harrison replied to Lorraine O'Malley's letters from August 1964 until her death in 1970, sharing notable events in the band's history, as well as news of her son's marriage to Pattie Boyd.
Mrs O'Malley, who started writing as a star-struck 16-year-old, kept the correspondence – which also included signed photographs of Harrison and bandmates Paul McCartney, John Lennon and Ringo Starr – safely stored in a safety deposit box for the next 50 years.
She has now decided to put the 55 letters and images up for sale with Omega Auctions, based in Merseyside, with an estimate of £6,000.
The letters went back and forth, with Mrs Harrison even telling Mrs O'Malley to call her 'mum' and passing on her new address when she and her husband moved.
Source: tech-gate.org