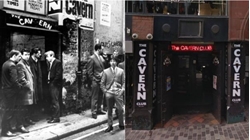 Liverpool City Council is proposing a regeneration area around Mathew Street, where the Cavern Club - which hosted the band's early shows - once stood. The aim was to bring an "enhanced and more co-ordinated Beatles tourism offer" to the area, the council said.
City Mayor Joe Anderson said there was a need to improve the area's 24-hour appeal as the current offer was "not at the level it could and should be". The plans could involve the redevelopment of derelict and under-used buildings and the creation of a "more defined and useable public open space". If approved, the regeneration work would focus on the area from Victoria and North John Street to Lord Street and Stanley Street.
The council said the city's "Beatles-related industry" had been growing at up to 15% annually in the last decade and was worth £90m a year. A spokesman said Cavern City Tours and the Cavern Club, the venue built on the site of its namesake nightclub using the original plans, now attracted 800,000 visitors a year. However, a report to the council said visitors were "increasingly looking for a quality experiential visit" and there was "a clear need to curate a Beatles Heritage offer".
Source:BBC News