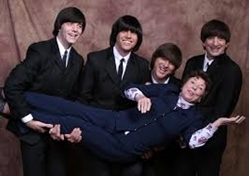 When not playing its own Branson, Missouri, theater, Liverpool Legends fits anywhere from the 1,000-seat Bama up to amphitheaters that seat 10,000, playing Carnegie Hall, or headlining at the Rose Bowl.
You'd have to be of a certain age to have witnessed Beatlemania live, the screaming drowning out drums and guitars, enough hair being yanked to fill a warehouse with Ringo wigs, sufficient ecstatic tears shed to float another pond between England and the colonies.
Frustrated with then-state-of-the-art speakers that couldn't overcome the shrieking -- of fans, not guitars -- the Beatles last staged a concert tour in 1966.
For their final years, they focused on what became legendary studio albums: "Sgt. Pepper's Lonely Hearts Club Band," "Magical Mystery Tour," "Yellow Submarine," "Abbey Road," "Let It Be" and the self-titled double vinyl known as the White Album.
Source: Mark Hughes Cobb/tuscaloosanews.com