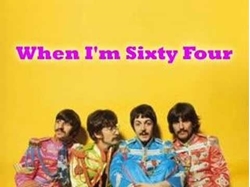 Sixty-four choirs will pay tribute to The Beatles across Merseyside tomorrow morning (Thursday 8 June) as they sing at the same time.
Performances of the band's track 'When I'm Sixty-Four' will take place at locations including Alder Hey Children's Hospital, supermarkets, schools and on the streets as the Sgt Pepper at 50 celebrations continue.
With hundreds of people also expected to gather near the statue of the 'Fab Four' on Liverpool's iconic waterfront when the region bursts into song at 10.30am prompt, those unable to attend are also being encouraged to get involved via social media.
The track will be broadcast live on BBC Radio Merseyside, which has organised the event alongside the team behind the citywide Sgt Pepper festivities, and the station is inviting members of the public to post videos of themselves singing along on its Facebook page.
On the same day, a series of poems from writers across the world including Roger McGough, Tracy K. Smith and Yasuhiro Yatsumoto to name a few will be loaded onto the www.sgtpepperat50.com website responding to the track.
The celebration is one of a series of world premiere commissions being held across Liverpool which are inspired by each of the 13 songs from 'Sgt Pepper's Lonely Hearts Club Band' as the album reaches its milestone 50th anniversary.
So far other events have included a pyrotechnic 'Lucy in the Sky' themed spectacular by Groupe F at Camp Hill in Woolton, and 'Mr Kite's Musicircus' at Aintree Racecourse.