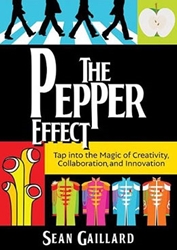 The Pepper Effect Combines the Spirit of the Beatles with the Classroom
Long-time school educator and self-proclaimed Beatles fanatic, Sean Gaillard, has just released The Pepper Effect, a new book that talks about how the band's secrets to success and creative collaboration can be applied not only in the schoolhouse, but to life.
"The creative and collaborative legacy of The Beatles does resonate in education," said Gaillard. "I wanted to share their inspirational story and describe how educators can transform a schoolhouse into a masterpiece as The Beatles did."
The Beatles' fabled Sergeant Pepper's Lonely Hearts Club Band album, often considered their creative zenith, celebrated its 50th anniversary last year. The historic moment inspired Gaillard to conceive of (with a little help from his friends) a radio show called "The Pepper Mindset", a seed idea which became the framework for the book.
Source: beatlesnews.com