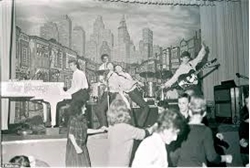 Hamburg has long been a thriving port. And ports need a lot of ropes. So, ropemaking was an important trade in the 17th century, when those who made them chose a long stretch of ground in the St Pauli district to produce their wares.
Now, here I am in 2020, on a pilgrimage to Ropemakers' Way — or, as it's known in German, Reeperbahn.
But, in truth, I am not here to learn about the ropes. Reeperbahn has another claim to fame. Almost 60 years ago to the day, a singer/guitarist called Tony Sheridan hired a band from Liverpool to back him at the Indra Club at the far end of the street. The band was called The Beatles.
Source: Mark Jones/dailymail.co.uk